YOU NEED A denton criminal ATTORNEY THAT WILL vigorously represent you
and your best interests.
YOU NEED DANIEL K. PEUGH, ATTORNEY AT LAW
What can Daniel K. Peugh, Criminal Attorney at Law help you with?
Choosing the right Denton criminal law lawyer to build your defense isn't as easy as simply picking a random name from the phonebook. You want a Denton criminal defense attorney that's backed by years of experience, familiar with local judges, local prosecutors, and local law enforcement agencies, and, above all else, will vigorously represent you and your best interests. You want Daniel K. Peugh, Denton Criminal Attorney at Law.
Focusing on Criminal Defense & DUI: The Peugh Law Firm in Denton County, Texas
As a former Assistant District Attorney in the Denton County Criminal District Attorney's Office, Daniel K. Peugh devoted his early life to understanding criminal law from both sides of the courtroom aisles.
With more opportunities to protect his Texas residents in private practice criminal defense work, our accomplished Denton criminal lawyer opened his private practice in 2002 and continues to protect the rights of clients throughout North Texas who find themselves challenged by legal trouble.
Need a Juvenile Defense Attorney in denton, tx?
What Types of Denton Criminal Law Cases Does the Peugh Law Firm Specialize In?
With twenty years of experience practicing criminal law in Denton County, Texas, the Peugh Law Firm specializes in the criminal defense cases that the State prosecutes the most. By focusing on defending clients in the most public areas of legal difficulty, our Denton criminal defense lawyer can protect more of our citizens from potentially sensationalized charges that are filed at the time of their arrest, and the aggressive prosecution tactics that follow.
Our criminal defense practice areas include:
Our Denton criminal attorney has spent more than two decades assisting our clients in Denton County, Texas with their legal troubles, no matter their age or the level of their charges. Our experience in the District Attorney's Office has provided our Denton criminal defense lawyer with impressive, integral contacts within the judicial and law enforcement communities to enhance our success rates at every turn.
What Determines Whether My Denton Criminal/DUI Case is Dismissed or Goes to Court?
If the police went to the trouble of arresting you, there is a 99% chance that DUI case will be filed in court. All the proof the police need to arrest you is probable cause. All the prosecutors need to charge you in court for a misdemeanor is "a good reason to believe" that you committed a crime. Neither the police nor the prosecutors look for proof beyond a reasonable doubt at this early stage.
Felony arrests are also based on little proof that amounts to probable cause and, while felonies must be submitted to the Grand Jury for approval, Grand Juries send felony charges on to court if they believe there is just probable cause. Even if you were not arrested, if someone has reported you for committing a crime you will likely have to go to court to answer for those charges.
Filing criminal charges in court without first making an arrest is referred to as filing a criminal case "at large." Nearly 20% of all criminal cases are filed at-large. So, just because you have not been arrested does not mean you will not be summoned to court as a defendant.

When Do I Need to Hire A Denton Criminal Defense Attorney?
The short answer is, whenever you are facing criminal charges. The courtroom is no place to find yourself alone, without experienced representation. Even petty, fine-only offenses can affect your ability to get a job and many fine-only offenses can result in a driver's license suspension. Neither of those outcomes should to be taken lightly, as they affect your livelihood directly.
All higher level criminal offenses can carry jail time or imprisonment as part of their range of punishment, increasing their severity in the eyes of the law, and adding to your need for an accomplished Denton criminal defense attorney.
Timing is incredibly important when hiring a Denton criminal attorney, and the sooner you can hire one, the better prepared your case will be, before your first appearance before a judge. Our Denton criminal defense law firm has stopped cases at the police agency and we have reached agreements with intake prosecutors to avoid filing charges against our clients, canceling court dates before they hit the judge's docket.
These great outcomes are only possible if we are hired early enough in the process to fight aggressively for a preemptive victory. Hiring a Denton criminal defense attorney who is local to the jurisdiction you are charged in can make the complete difference in your legal outcome. As a former Denton County prosecutor, our Denton criminal attorney has been in the Denton County legal community for twenty years, curating relationships with decision makers who can deliver successful outcomes for our clients.

Which Services Allow The Peugh Law Firm to Stand Apart from Other Local Denton Criminal Defense Attorneys?
The Peugh Law firm represents a unique value in the world of Denton criminal attorneys. Our Denton criminal defense lawyer's inherent connections in the legal community immediately give our firm a substantial leg up in representing our clients. For over 20 years, Daniel K. Peugh has participated in the Denton County legal community with integrity, determination, and success, solidifying partnerships with law enforcement experts that give our clients an advantage.
Next, Mr. Peugh defends our clients personally. Other Denton criminal law firms will pass your case down to junior associates you have never met, and who do not have the experience you thought you were paying for. In most cases, you will spend your first meeting with that Denton criminal defense lawyers inside the courtroom, where you will be pressured to take a plea, and quickly. That is not how we operate. Justice is important to us, and we will personally fight for it on your behalf.
Finally, we start working on your defense the day you hire us. We gather information about your charges, we work with you to develop your side of the story and we put together mitigating information, so we can ask for a break if we need one. Your Denton criminal defense attorney cannot wait until he or she receives an unfavorable plea offer to start building your defense. At The Peugh Law Firm, we like to win. We will work hard to win the issue of guilt but, if that fails we will have evidence in hand to win on the issue of punishment. Most Denton criminal defense lawyers and law firms do less, expecting their clients to be happy with the results of a plea. This is your life we're talking about, and it should not be left to chance.
Rely on Daniel K. Peugh for Comprehensive Criminal & DWI Defense in Denton, Texas
When Adding Positivity and Recognition into The Denton Criminal Attorney Hiring Process, The Peugh Law Firm Wins
If you need a Denton criminal defense attorney, you already have enough stress to worry about. Sifting through an endless list of prospective criminal lawyers will narrow your options down to the best of the best, and we know all the possible Denton criminal attorneys whose names are at the top of that list. So, why choose The Peugh Law Firm?
Besides our accomplished criminal defense track record, two reasons:
Unmatched customer service
Avvo.com rated 10.0 with more than 120 five-star client reviews
Our clients love us because we take care of them. Our Dentoncriminal defense lawyers keep our clients informed in writing at every new stage in their cases. We email our clients copies of important court documents and copies of the discovery items that we are legally allowed to provide. We answer all our clients' questions quickly and honestly. We love giving our clients good news but, this is criminal defense practice and not all news is good news. You can count on us for the truth and to still find a way to succeed when the truth isn't what we want it to be. Our Denton criminal defense law firm practices in real time, which means you will know the details of your case as soon as we do, so we can determine our next steps together.
Contact Criminal Attorneys at Peugh Law Firm in Denton County, Texas Today to Schedule a Free Consultation
If you are facing criminal charges in Denton County, Texas, contact our accomplished Denton criminal lawyer at The Peugh Law Firm today at (940) 566-0271 to schedule a free consultation and discuss your legal needs. Timing is a large part of our success, and the sooner you make contact, the sooner we can get to work on your important case and strive for a successful outcome.
Contact Criminal Attorney Daniel K. Peugh today at 940-566-0271 in Denton, Texas, for comprehensive criminal defense.
E-mail criminal defense attorney Daniel K. Peugh to schedule your free consultation today.
Ask These Five Questions To Avoid
Hiring The Wrong Criminal Defense Attorney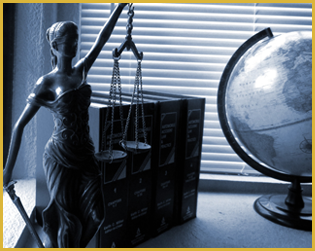 Enter your email address below to learn the questions to ask to be sure you don't settle on the wrong legal representation.