Above and Beyond Expectations
"Daniel has worked with me in regards to some technical aspects of my case and advised me on options I had as well as working around my school schedule. In addition he has been readily available to give advice as he is conveniently located right next to UNT campus and has been friendly and understanding throughout the process. He understood that I was a student who made a mistake rather than some mindless criminal who he treated as a paycheck which most other lawyers I have come into contact with have. He got me a reduced charge and minimum fine, and with a knowledge of the intricate DA processes nearly got my case thrown out before it was even filed. A+++. I highly recommend him to anyone in Denton or the surrounding areas."
Stephen
Six star if I could
"We hired Mr, Peugh to represent our daughter. At all times thru the process the office staff and Mr. Peugh were helpful, understanding and always available. We could not be any more satisfied with the outcome he was able to achieve for her."
Mike
Very Pleased
"I cannot recommend Dan Peugh enough. I never had to step foot inside a courtroom and my case was taken care of with sensitivity and understanding. I am pleased (as much as one can be) with the outcome and very grateful. Most of my communication was with Cara, who was not only prompt, informative and accurate but also a joy to work with. She even watched my three children during my last appointment as my sitter did not show. I would highly recommend hiring Dan Peugh to represent you."
Shae
Find Out The Five Critical Characteristics
To Demand From Your Attorney
Enter your email address below
to learn about these five critical characteristics your attorney must have BEFORE you hire them to represent you.
What can Daniel K. Peugh, Attorney at Law do for you?
Choosing the right lawyer to build your defense isn't as easy as simply picking a random name from the phonebook. You want a defense attorney that's backed by years of experience, familiar with local judges, local prosecutors, and local law enforcement agencies, and, above all else, will vigorously represent you and your best interests. You want Daniel K. Peugh, Attorney at Law.
Rely on Daniel K. Peugh for Criminal
& Juvenile Defense in Denton, Texas
Contact attorney Daniel K. Peugh today at 940.566 0271
in Denton, Texas, for comprehensive criminal defense.
E-mail criminal defense attorney Daniel K.
Peugh to schedule your free consultation today.
Ask These Six Questions To Avoid
Hiring The Wrong Attorney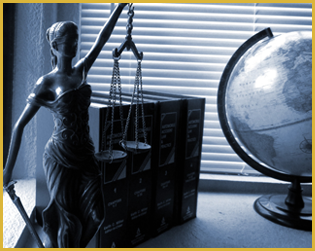 Enter your email address below
to learn the questions to ask to be sure you don't settle on the wrong legal representation.